Creos
Multi-standard banknote reader for highly frequented vending locations
Reading reliability and precision in fakes discrimination are the strenghts of Creos, our banknote reader for vending designed to ensure excellent usability even in high stress situations, such as locations with an high frequency of pubblic or tobacco vending machines.
Creos payment system is efficient in banknote recognition thanks to nine optical reading signals. The polycarbonate bezel and the optimized dragging system offer a precise banknote alignment and a quick and intuitive use for final users. Operating parameters and banknote database programming of Creos take place through a simple USB pendrive thanks to an integrated port: in this way upgrades can be made directly from the location and this makes them even faster to do and autonomous from external peripherals. To obtain a quick adjustment of the tollerance level there is also a programming button on the reader's body.
Creos also supports the creation of a customize database, while Coges experience offers to all the customers a free access to the entire essential software for programming and updating the reader, including banknote database.
Creos' safety devices, such as the cash-box sensor, the draining system for protection against liquids and the optical anti-fishing system help the reader to ensure the safety of vending machines' cash collections. To get the best from the combined use of cash and cashless payment systems for vending, Creos can be connected to Coges Engine to obtain a complete account data collection and to program bonus able to encourage users to top up their cashless media with banknote.
Technical data
| | |
| --- | --- |
| Stacker capacity: | 300 or 600 bills |
| Dimensions (LxWxH): | 98 x 126 x 235 mm. |
| Weight: | 1.05 KG |
| Maximum no. bills in memory: | 100 |
| Maximum accepted bill width: | 72 mm. |
| Maximum accepted bill length: | 160 mm. |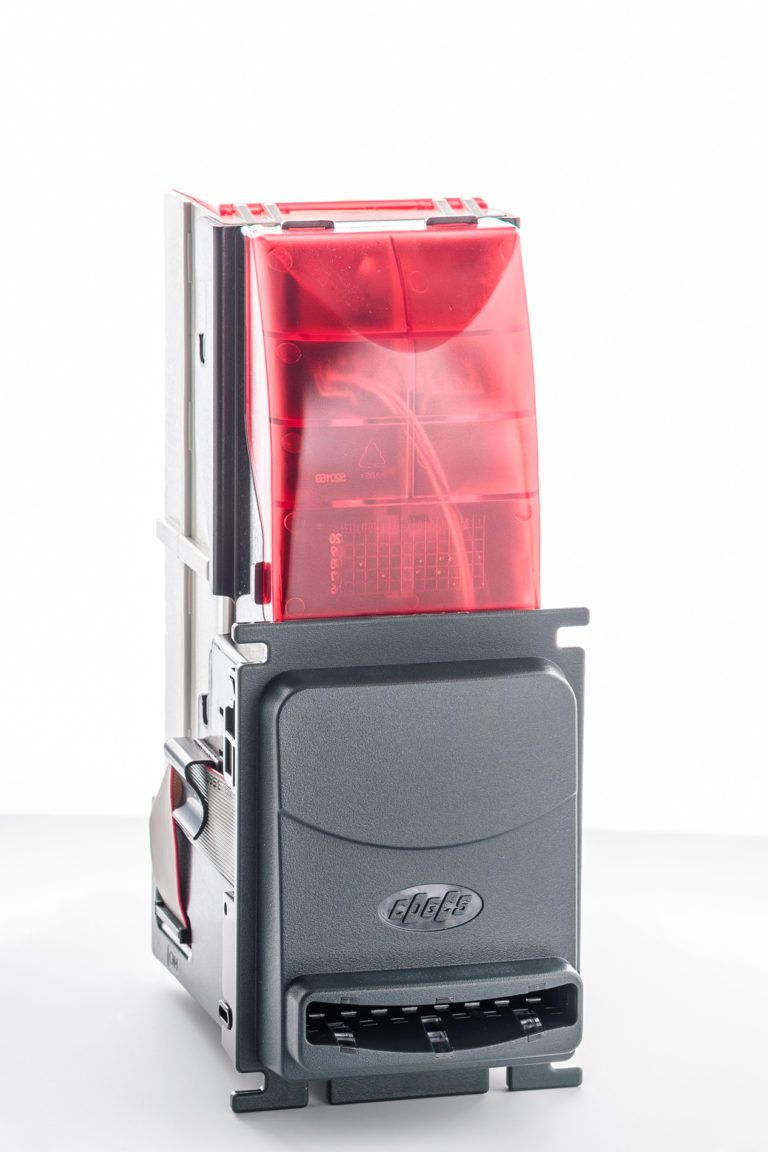 Request Information
Want to learn more about Coges and its products?
To receive information concerning all commercial aspects of Coges products (ex. prices, availability, etc.) fill in the form.
Your personal information will not be shared with anyone else and is used only to respond to your request (please read our Privacy Policy).
For technical support please visit our "Support" page on this website.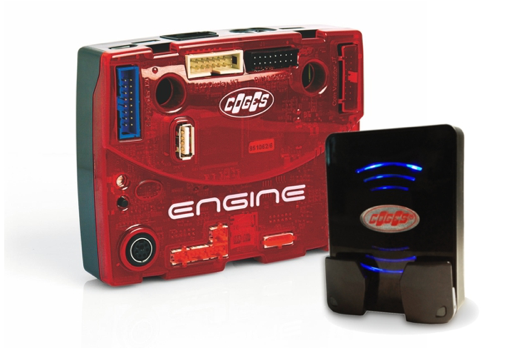 Coges Engine is the most complete and innovative electronic vending system: the most advanced functions of the cashless payment system are integrated with cash management and telemetry into one powerful, complete and flexible system to adapt to any need.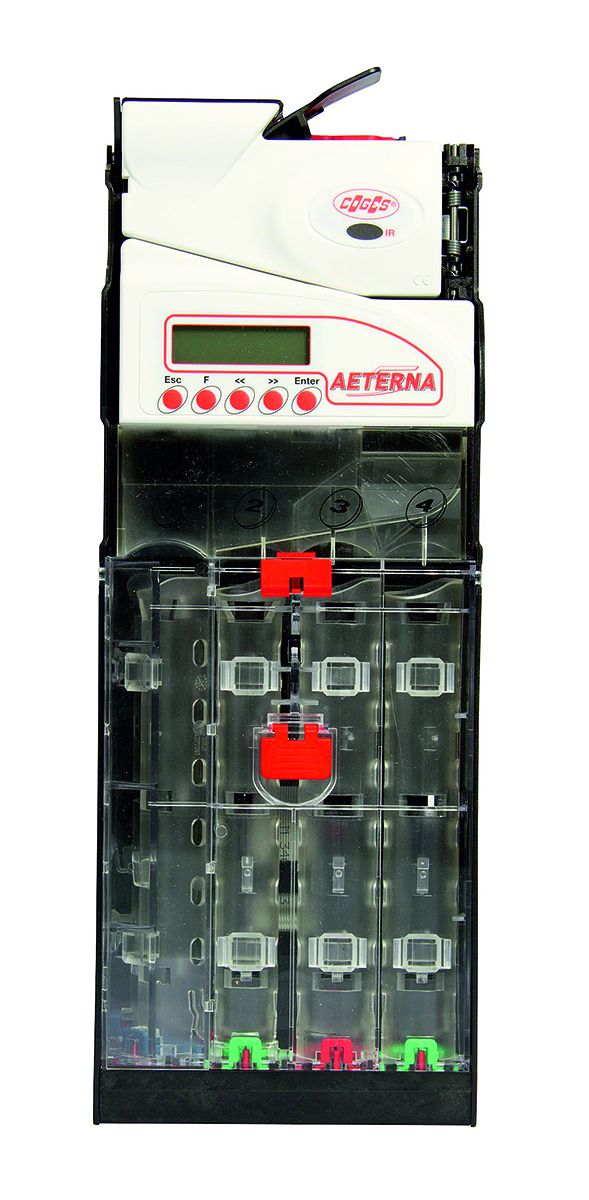 Functionality, ease of use and high performance perfectly describe Aeterna, the most intuitive 5 tube change-giver in configuration and programming operations. Coges experience made possible the creation of an all-around, fast, accurate in coins recognition, suitable for every vending machine payment systems which is also able to send account data directly to an handheld device thanks to an integrated infrared port. Its 5 exceptionally long tubes can hold up to 97 0,05€ coins increasing, in this way, the autonomy of the coin validator and the operator's collection opportunities. The tubes group also includes 2 levels of photocells to count the coins inside. Aeterna is compatible with Euro coins and with a wide range of other country currencies. Contact us to find out if the currency of your vending location is already supported by Aeterna or to know how we can add it to our large coin database. If you want to get the best out of your Aeterna coin validator, you can also connect it to a
cashless payment system
through the MDB bus to offer your customer more payment options. Cashless is a payment system that use different supports in which is possible to store the amount of credit: these supports can be rappresented by an
electronic key
, a
card
or a smartphone
application
which can all be topped up by inserting cash in the
change giver
or in a
banknote reader
and which are all able to offer an alternative to cash for produtcs purchases in all the distributors of the same operator.