Bonus and benefits for end users thanks to Coges Engine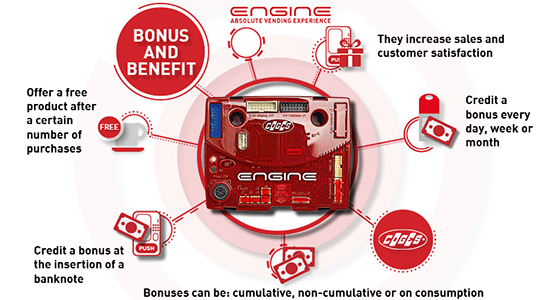 Enhance the buying experience of your customers with numerous bonus and benefits and optimize sales of all your products.
The bonus are prizes payable in the cashless purchase mode and they allow the crediting of a recharge value or the delivery of a free sale.
There are numerous types of bonus, all of which are programmable from a PC through the Visual Programmer. Some of them are also settable through the E.C.S. Programmer.
The main bonus available for Coges Engine are:
Recharge Bonus: the credit can take place on a daily, weekly or monthly basis.
Free sale: it grants a free product after a certain amount of purchase.
Banknotes top-up: the credit takes place when a banknote is inserted.
Start your journey in the Absolute vending Experience with this brief video or read the flyer to learn more!